I was sent these two products to review and I honestly can't wait to use them! I love getting new things to try and let you all know how I like them! You can read a little bit about each one below and stay tuned for my reviews!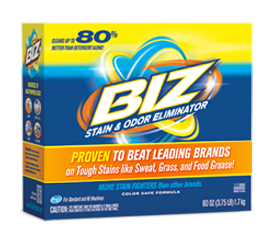 The original form of BIZ®! Do you remember BIZ? Biz Powder is an additive. You can add to every load to boost the cleaning power of your detergent and eliminate tough stains.
Pre-Soak: Dissolve 1/2 cup Biz in a gallon of warm water and soak garments 1-4 hours. Pre-Treat: Wet the stained area, make a paste with Biz Powder and warm water. Spread paste over the stain, let sit up to 30 minutes, then wash as usual.
Cleans up to 80% BETTER than detergent alone
MORE STAIN FIGHTERS than other brands
Fights tough stains BETTER THAN LEADING BRANDS guaranteed!
Contains a UNIQUE blend of enzymes which quickly dissolves stains and odors
Made with BIODEGRADABLE surfactants
Ingredients
Natural enzyme complex, solvent, surfactant, mild cleaners, natural citrus scent.
Directions
Remove excess solid or liquid waste from "accident area". Test for colorfast by applying to a hidden area and allow to dry. Do not use if color is affected. Blot stain and allow to air dry. Keep children and pets away from treated area until dry.
Instant All-purpose Stain & Odor Remover is the go-to solution for household stains & odors
Patented formula neutralizes & eliminates odors, providing a deep clean that deters future accidents
Use on carpet, furniture, mattresses, clothing, bedding & any other water-safe surfaces
Parent Tested, Parents Approved – Award Winner
Non-Toxic, Biodegradable & Cruelty-Free