If you know me, you know I am not the best cook… in fact, I gave up even trying.
Well, here I am, back at it… trying again. I am so sick of eating the same restaurant food each week and waiting to the last min to order or try to throw something together and honestly just really just eating a lot of grilled cheese, sandwiches and soup.
I tried the whole, "Hey eat cereal for dinner suggestion" for my kids one night, and they just looked at me…
They really work out too hard in all the sports stuff and they really deserve a good warm meal at the end of the day.
I am currently working from home… which you would think that would make things easier on me to cook a meal every night. Honestly, it really just means I work more… I don't have the pack up, run out of the office, and don't turn back on the computer until the next morning type of job. I am sure as most of you found, working home during the "Pandemi" it is hard to get up and tear yourself away… I am an empty my inbox kind of girl… my own worst enemy.
OK so the recipe…
With a quick google search "Best Pot Roast Recipe" – very creative I know….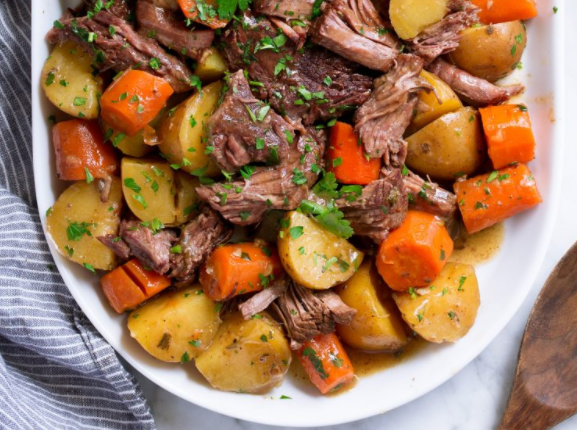 My search result bringing me to the Cooking Classy Website and then I improvised, well "winged" it from there… and it went a little something like this…
INGREDIENTS:
Olive oil – for searing the roast – I have learned from Grandma Brinck that searing your meat is the secret to keeping it moist.
Black Ground Pepper – season roast with a fair amount of salt, otherwise it can taste a little flat.
Wildtree Rancher Steak Rub – we use this on everything
Wildtree Absolutely Onion Blend
Garlic – I did use fresh garlic
Beef broth – I actually had this… thanks to a friend… I usually use chicken broth.
Worcestershire sauce – we have been using this a lot on steaks and it really does make a difference
Rosemary dried herbs – for the potatoes
Red potatoes – cubed
Carrots – thicker carrots work better here as they won't get mushy with this lengthy cook time.
Celery– sliced
Red Wine– anything you have – I used a California Red and then I was able to enjoy some with Dinner.. Bonus!
INSTRUCTIONS:
Heat 1 Tbsp olive oil in a large skillet over medium-high heat. Dab roast dry with paper towels, season all over with pepper.
Sear roast in pot until browned on both sides, about 4 – 5 minutes per side. Transfer roast to slow cooker. 
Add remaining seasonings – I just cover the roast and garlic cloves (3)
Layer potatoes and carrots over Roast in slow cooker, pour beef broth evenly over top (3 cups)
Cook low and slow: Cover slow cooker and cook on low heat until roast and vegetables are tender, about 8 – 9 hours.
I am really sharing this for me… so I don't forget… but to help anyone out there in the cyber world as well!
When my hubs took his first bit he literally purred with a yummmm… and y'all that NEVER legit NEVER happens! So this is worth documenting! Now Ava, my not really meat eater only ate the potatoes… win some you lose some.