The fact that he loves this camp is so important to me now that we have Austin on a competitive soccer team.  I want to keep him active, practicing, and building new skills during the off season.
I like that this camp provides your child with the rare opportunity to receive high-level soccer coaching from a team of international expert's.
I appreciate the way the coaches focus on fun and turn skill development into a game. This allows Austin to have a new/exciting experience while developing new skills and practicing learned skills.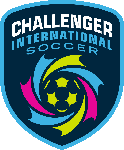 The TinyTykes program, ages 2-5, provides fundamental soccer activities, games, and stories; designed to enhance technical skills along with physical and social development.
The Half-Day Camp, ages 5-16, is the most popular program and will provide 3 hours of skill development, games, challenges and competitions each day.
The Full-Day Camp, ages 8-18, is a 6 hour program filled with developmental practices, games, competitions and challenges.
All Campers will also receive free access to Challenger's On Demand virtual library, allowing them to train At Home before, during and after camp!
Look at what your child will get!
Great Coaching from International camp staff
Daily Skill Development
Daily challenges
Camp World Cup
Character building lessons
Camp ball
Camp t-shirt
Camp poster
Soccer app and 20 skills videos
Access to online coaching library
Free International Soccer Jersey with early registration (S & H applies)
TOTAL CAMPER PACKAGE VALUE – OVER $100!
Another thing I love about this camp – if you register by a certain date (pre-register) you get a FREE jersey (like the one they are wearing above), soccer ball (also pictured below), and a t-shirt!!
Have you tried any of the Challenger Soccer camps?
Click HERE to find the camps offered near you!

This is a USFamily Guide Sponsored Post.  All thought are 100% my own.  Thanks for reading!